CIRCULAR ECONOMY IN PRACTICE
"Through Nordic Plastic Recycling, we are taking responsibility for recycling our products. The long-term goal is to be able to offer all our customers circular economy in practice," says Dag Eirik Thomassen, CEO of Cipax in Norway.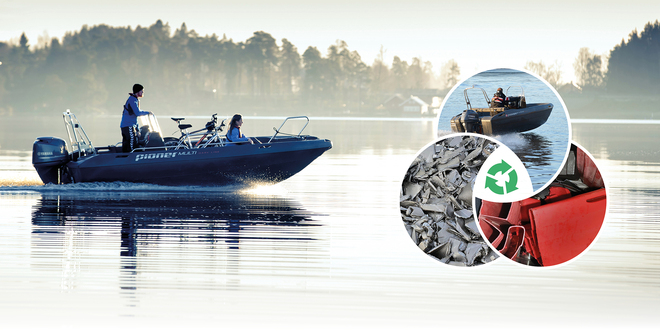 PRODUCER RESPONSIBILITY
During 2016, Cipax became a co-owner in a Norwegian collaborative project, which is now marketed under the name Nordic Plastic Recycling. The operation is run along with colleagues in the industry, and is intended to handle the recovery of the involved companies' own products and increase the recycling of plastic materials. For Cipax, this initially relates to dealing with the boats that the company manufactures and markets under the Pioner and Steady brands, once they have reached the end of their service life.
"We will take control of the entire value chain, which is our responsibility as a producer and also part of our long-term sustainability work. Our products are 100 per cent recyclable, but the infrastructure, technology and expertise required for accepting and recycling them do not exist at present. We will change this through Nordic Plastic Recycling," says Dag Eirik.
TAKING BACK BOATS
It should be easy for the customer to return their boat for recycling, and for this reason Cipax is working to expand its network of business partners in order to get closer to customers in purely geographical terms. However, stringent demands are being placed on these partners' ability to sort the materials into the correct fractions. "It is important for our partners to possess this expertise, as the biggest challenge at the moment is access to recycled material of a high and even quality," says Dag Eirik.
During the recycling process at Nordic Plastic Recycling, the recovered material is sorted into two different fractions with separate production lines. "The material that is of a sufficiently high quality that we can use it again in our own manufacture of rotational-moulded products has a separate, isolated production line. Scrapped products made of other recyclable materials end up in fraction number two, which we can use for other production methods. We naturally place very high demands as regards quality, and carry out quality tests continually on the recycled material before it can go back into production."
SUSTAINABILITY CONSIDERATIONS IN EVERYTHING WE DO
Future customers will not be satisfied with the product they buy simply being made from a material that is 100 per cent recyclable. They also want to know that the circularity will continue once the product has reached the end of its service life. "They want to feel secure in the knowledge that scrapped items will be taken back by us producers and then be used in the cycle again. Our customers expect us to close the circle," says Dag Eirik, continuing:
"It is important for us as a producer to play an active role in the entire life cycle of the product and to consider sustainability in everything we do – from product design to production and recovery. As new environmental directives from the EU enter into force, producer responsibility will be further tightened. Through the activities conducted within Nordic Plastic Recycling, we have positioned ourselves at the absolute forefront in this respect."
ABOUT NORDIC PLASTIC RECYCLING
Nordic Plastic Recycling is an industrial player that promotes the circular economy by developing sustainable solutions for the recovery and recycling of plastics. The market can return scrapped products for recycling through this establishment, and the Nordic players in the plastics industry have the potential to return waste from their own production operations. The initiative will also contribute to a reduced environmental impact through greater resource efficiency and reduced extraction of raw materials. Nordic Plastic Recycling AS was established at the end of 2016.