SUSTAINABLE WAVE POWER
A couple of years ago, KMV initiated a collaboration with the Swedish company CorPower Ocean, which is a leading player within wave energy technology. This relates to deliveries of multiple cylinder tubes measuring roughly two metres for a wave converter in a pilot project. The focus of the project is on innovative and patented technology designed to extract sustainable energy from the sea. Research reports show that at least 20 per cent of the world's energy consumption could be covered by wave power, a fact that makes the collaboration between the companies particularly inspirational, according to KMV's Managing Director, Mattias Nettelbladt.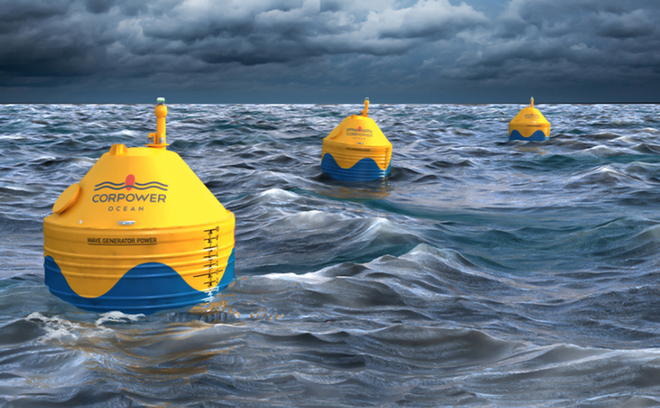 "This is a very interesting project, not least from a sustainability perspective. Access to clean energy is one of the make-or-break issues facing the world, and if our skills and products can help to be a small part of the solution, even at a component level, this is obviously very positive," he says.
The collaboration between the companies began in 2019. "CorPower Ocean needed multiple cylindrical tubes made from a specific material, although initially they actually entered into discussions with another player," he says. It became clear that this player would be unable to supply the machined tubes in the quality that the customer needed, and so they contacted KMV. "We had previously enjoyed a positive collaboration, and this now led to a new one with CorPower Ocean, which is pleasing," says Mattias.
One major challenge in respect of wave power is that the equipment has to cope with the tough marine environment at the same time as generating energy at a level that makes it profitable. CorPower Ocean's wave power installation has been designed to cope with both aspects. The first wave power installation to be built was on a scale of 1:2, and was launched off the coast of Scotland. The results were better than anyone could have dared to hope – both in terms of surviving storms and extracting energy.
The company is now pushing ahead with the next stage of the project in the form of full-scale machines, this time in Portugal. Prior to this, testing will be carried out in part with the aim of determining the extent of the forces that the buoys can withstand, as well as how much energy they can generate over time. If everything goes according to plan, this means that, from 2024, CorPower Ocean can start supplying wave power installations in volume to customers building wave power parks around the world.
For a number of reasons, CorPower Ocean wants its suppliers to be located nearby geographically. One such reason is that development projects require flexible and close contact with each individual business partner. "Our geographic proximity, as well as our ability to supply all-inclusive solutions along with our sister companies, makes us the perfect business partner for CorPower Ocean. They can enjoy both cost and time efficiency benefits from having one supplier instead of several," concludes Mattias.