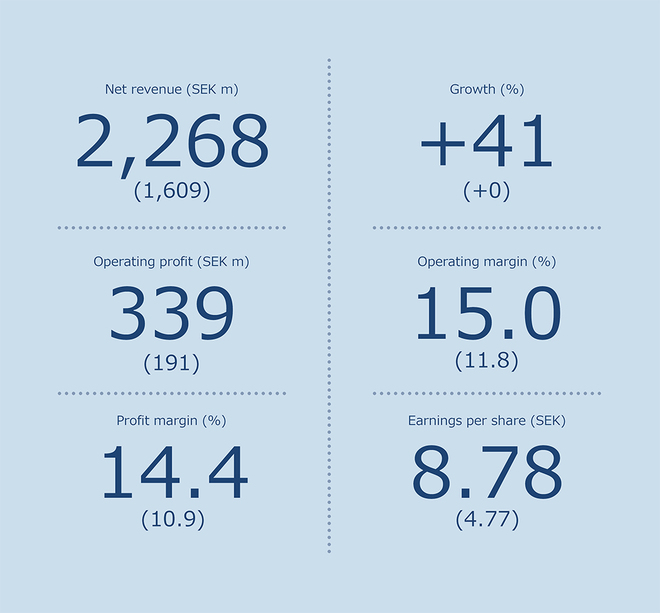 DEVELOPMENTS DURING THE PERIOD

| | |
| --- | --- |
| ■ | Organic growth by 28 per cent |
| ■ | Net revenue increased by 41 per cent |
| ■ | Good development for our own products and solutions |
| ■ | Project-related activities represent an increased share of total volumes |
| ■ | A stable market situation within all business units |
ONWARDS . . .
A stable market situation, with good incoming orders within all business units, is giving us reason to stick to our previous assessment that the Group as a whole looks like it will be able to continue performing well in the near future.
Our areas of focus and our strategies remain unchanged. They are providing us with a good foundation for future activities, where joint projects and the exchange of knowledge within the business units are high priorities. Previously implemented and current development programmes within XANO Academy are improving our potential to identify synergies and establish rewarding collaborations on several levels.
The Group is growing, and we continue our investment programmes in order to respond to our customers' wishes from a capacity perspective. We are reinforcing resources both in terms of personnel and machinery, as well as by expanding our factory space. In parallel with this, work is being conducted aimed at safeguarding the sustainability of products and production in the long term, both through internal activities as well as valuable collaborations with customers.
As before, the evaluation of potential acquisitions is a continuous process. We have a well elaborated selection model for identifying companies with operations that supplement our existing activities as optimally as possible, while at the same time having the conditions for both organic growth and technical development.